Stephen Carlton
God placed me here at EVC by design. Nothing happens by accident. A series of poor choices led to devastating results in my life.  After moving to San Jose area, I was looking for a good church and continue attending a Celebrate Recovery ministry.  The Celebrate Recovery website led me to EVC and although the church no longer had this ministry ongoing, I was immediately welcomed by the people at EVC.
The pastors and men of the church offered encouragement, support and prayer. A church with people who genuinely care. The fruit of EVC was evident. Welcoming and loving.
Meeting regularly with other men who I can share my life with, I found myself being more honest about areas in my life. Being vulnerable and trusting.
Someone once told me that the opposite of Joy is not sadness, but fear. Fear keeps us from being vulnerable and robs us of our Joy.
Fellowship. Community. Connection. Important ingredients for growth.
I am pursuing God once again, learning to trust. Learning to wait. Trusting that He has me where He wants me to be. Waiting for Him to reveal the next chapter in my life is difficult.  I'm naturally impatient and fiercely independent. I've learned that waiting on God is not passive but that waiting is active obedience to God. Waiting is trusting. It's being alert. Watching, listening and ready to move when He reveals that moment. The church body plays an important part in this.
Annie Jones
I was invited to East Valley Church by Lonnie Wesley in 1964.  Lonnie found East Valley in the local newspaper and decided to attend.  A few weeks later, she invited me and my family.  After attending a few weeks, I was greatly impressed with the message, Sunday school classes, friendliness and fellowship.  Through this experience, I learned to trust God (Proverbs 3:5-6).  I soon became a member of EVBC and began to serve in whatever capacity I could.
I met Velma Amos who encouraged me to attend child evangelism training classes.  I began teaching Sunday school (grades 1st & 2nd).  I attend Precept Bible Study with Kim Borsgard which helped to prepare me to serve in the GMG (Girls Meeting God) and Vacation Bible School.  I also taught Children's Church and served in the nursery.
Sunday School classes as well as the small group classes here at East Valley continue to help me grow in the Lord.
I thank my Heavenly Father for leading me to East Valley and for the love and support of my brothers and sisters here.  I am always reminded to trust in the Lord with all my heart and to give God the glory for what he has done for me.
Alyssa and Trevor Lobert
Trevor started attending EVC in 2002 with his family; Alyssa started attending in 2008 with hers. We both came to know the Lord fairly quickly through the ministry and love of the people of East Valley Church. God was working in both of us individually and we both accepted the Lord into our hearts before we met and started dating in 2009. Through the love and support of our church family, we learned what it meant to have a Christ centered relationship and have carried that into our marriage. We've continued to grow in our relationship with God as we serve alongside each other through various ministries and with our church family at EVC. Some of the ministries we serve in are the same ones that brought us to East Valley. Reality Check (Youth Group) was instrumental in our young walks with the Lord and now we faithfully serve to bring the same light of Christ to the youth in our community. Some other ministries such as VBS, Sports Camp, Kids Club, Mexico Missions, Sound/Computer Ministry, Children's Ministry, EV's Diner, Family Fall Festival, and The Car Show have impacted us in a way that we feel God has called us to serve and further his kingdom.  As a church, we look forward to growing spiritually and in numbers throughout the years.  We are truly grateful for the love and community of our church and look forward to seeing what God will do through the ministry at EVC in the future.
Christian and Gemma Hainry
I was born and raised in France as a catholic boy (while my wife as a catholic girl in the Philippines), had my communion and confirmation. As many, we were trying to be good to get our laurels with God; my heart, however, was not in it. Going to church every Saturday night for many years, never showed who God was nor was He present at home!
Fast-forwarding, 20 years later I live in San Jose, CA. Still trying to be good! plugging with the church down the street (5 minutes' walk from our house!) with a marriage not doing well, ending up with the wife going back to France on vacation with the children, but never to came back… leaving me with the Cafe, we had purchased 6 months prior. Many church members including our pastor (John Helveston and Lucy his wife), at the time, supported me and taught me what God's love is all about.
The following year March 1996, I gave my life to God in Mount Hermon Men's retreat while I was learning how to pray to get my children back home (Mickael 5y.o. and Caroline 3 y.0.) a year and a half later, God allowed me to gain custody over the children. What were the odds that the French Courts would send the children back to the United States to single dad??? I learnt firsthand who our God is, what He can do through His people, the church and the power of prayers of His people.
Gemma (with a past of physical and verbal abuse and her son Mik) and I (with a son and daughter) got married in May 1999, needless to say a Filipina Mom with a French Dad in the USA may be challenging (unless God is part of it) as a blended family! Our Church family through bible study, Blended Family Connect, Prayers for each other, Gemma and I learnt, over time, to give it to God, learn to forgive each other (so hard to do! Pride?) give Him our health to restore, cancer or not and so much more…
The odd part is that 2 couples with whom we shared our struggles, learnt how to deal with our struggles, prayed with and more, are not together anymore and this saddened us a lot? Frankly? if God was not in our daily life, we would definitely be apart, but we are not! God has plans for us as we speak. Our Lord Jesus Christ came down to share our lives, feel angry, feel hungry, feel thirsty, feel like being the God (He already is), feel like don't want to do it anymore (going on the cross) …  Our Lord Jesus went through it all and never sinned! He showed us, He made Himself felt in our heart, so we can try to follow Him closer every day and give Him the glory of who He is, Our Lord and Savior!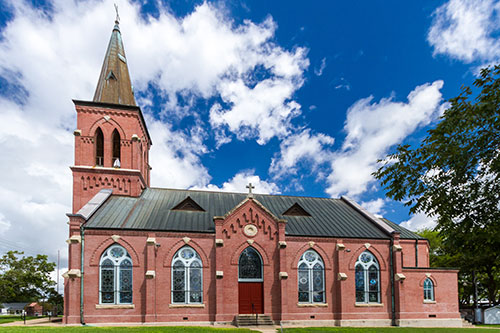 At East Valley Church, we have a simple hope: to see people come to know Jesus Christ and grow in their Christian faith. For 10 years, we've been helping spread God's good news here in our hometown and throughout the world, and we pray that God will continue to use our congregation. Whether you've been attending church for years or haven't stepped into a sanctuary in decades, we hope you'll come and join us Sunday if you're looking for a church in our hometown.
When you come to join us for the first time, one of our greeters will be glad to help you become comfortable. If you'd like, they'll help you find the nursery (which is fully staffed and safely run), restrooms, sanctuary and, of course, coffee after the service.
During the service, you'll hear our faith expressed in the songs we sing, prayers we offer up and our pastor's preaching. All parts of our service are grounded in the Bible, which we are committed to upholding. At East Valley Church, we agree with the Apostle's Creed and Nicene Creed, which we may read during the service. The Apostle's and Nicene Creeds are two of the most ancient Christian creeds, and you'll find they are upheld by almost all churches today.
After the service, join us for a cup of coffee and give us a chance to get to know each other. Say hello to our pastor and anyone else you see. We'd all love to hear your story and share ours with you.
No matter what your Christian background is (or isn't), we hope you'll join us on Sunday. Here at East Valley Church, you'll find people of all sizes, stripes and colors, and we welcome everyone--including you. Our services start at 9:00 and 10:30 a.m. every Sunday.